Scan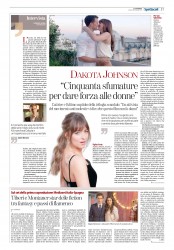 Translated by us
The 2015 release of Fifty Shades of Grey, the first film in the trilogy taken from the best-selling books by EL James, was accompanied by great anticipation and debate: an erotic story, centered around practices of sadomasochism, which was able to capture the sexual fantasies of millions of people. The last film in the series, Fifty Shades Freed, coming out in a few weeks for Valentine's Day, should have been a moment of triumph. But in three years, the world has changed. Especially in the last six months, since the revelations about the abuses of Harvey Weinstein and other Hollywood actors have shaken the foundations of cinema and every production sector. And now the new and final chapter will be accompanied by protests, seen as a vehicle that normalizes abuse and encircles domestic violence with glamor.
At the center of all this is a twenty-eight-year-old girl, Dakota Johnson, Anastasia Steele from the movie next to Jamie Dornan. Dakota could be on the defensive. But she is the daughter of Don Johnson and Melanie Griffith. Antonio Banderas is her stepfather. Her grandmother is Tippi Hedren. And she is a professional. So much so that Johnson is now also one of the Time's Up activists. "Groundless accusations - she claims. Anastasia teaches women to find their way and to have more confidence in themselves".
How have you changed in these 3 years? And how have you changed for Anastasia?
Dakota: I started the trilogy when I was 23 and I had never done a scene of sex or nudity. I was afraid, but it was a story I wanted to tell. I exposed myself in many ways, physically and emotionally. I made myself vulnerable. Then, with the success of the series, I had to learn to distance myself from my character, to remember that I still have a long way to go. And I hope that in the end, people will remember that Anastasia is just a character, that does not reflect my personal life. There are women who come and thank me for helping them feel sexually liberated. They do not have to thank me, but E. L. James. I am an instrument. It is not a case of life imitating art.
In real life, however, many things are changing, in Hollywood and elsewhere. Have the recent controversies changed the film's release strategies?
Dakota: I can not talk about marketing, it's not my decision. But I do not think that my character or the film is harmful to how women are treated in our industry. If anything, I think the trilogy gives women the strength to take the initiative and have more confidence in themselves, in their relationships and jobs. The strength to be treated fairly. Anastasia in the film experiences all these experiences. Art, creativity and cinema can give a big hand in changing things. And if I can do anything to support the movement and to help achieve these goals, I'm there.
Do you feel a different sense of feminine solidarity?
Dakota: Yes, it is not that there was competition and rivalry before, but now I have made many friends with women whom I have admired all my life. We have no problem talking to each other and being honest and open. We talk a lot among ourselves, and this is a value that will not be lost.
What kind of man do you want? And how are things going with Chris Martin, leader of Coldplay?
Dakota: As the film teaches, there is not one kind of love. As for me, I want a man who respects me and supports my job as much as his. For the rest, I prefer to keep these things private.
Dakota, there is another important man in your artistic life: Luca Guadagnino, with whom you made "A Bigger Splash" and now the remake of "Suspiria"
Dakota: With Luca, I had the most collaborative working relationship of my life. He manages to stimulate a different part of my creativity. And then I spent so much time with him in Italy that I learned to appreciate your country, to experience its culture and customs in a more intimate way. I feel lucky for this and I would like my Italian to be better. People are discussing and shaking you, but there is no hate. Everything comes from love and creativity. From the passion.