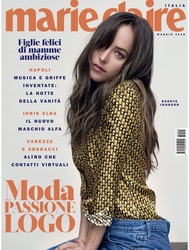 Outtakes
UHQ Scans
Interview
Translated by Us
My clan goes against the current
Dakota whispers a "hello everybody!" while hiding quickly behind the screen with the make-up artist and the hairdresser. Following her is trotting her agent, two, IPhone in one hand, Starbucks cup in the other, they immediately start talking to the photographer. It will be a long affair, the first click arrives after two and a half hours. The questions, I will have to do them at the end, they tell me. No problem, I think, photographic sets, interviews. I'm sure it is in her blood, since it is the third generation of a clan that here is call Hollywood Royalty, the Hollywood nobility. The grandmother is Tippi Hedren, a fabulous 88-year-old, Alfred Hitchcock's muse (Gli uccellu, Marnie), her mother is Melanie Griffith, actress of the 80's and 90 (Working Girl), father Don Johnson (protagonist of Miami Vice ).
Dakota debuted right next to her mother, in Pazzi in Alabama, directed by her stepfather Antonio Banderas, with whom she grew up. "I was nine," she says, "and I was so happy to finally be included in the family tradition. I took it very seriously, I worked on the voice and the accent with a teacher. Filming was allowed to be part of something I had always wanted to do". Then, however, another ten years passed before a second film, "Because my parents wanted me to finish school and I think it was right that way." Despite this familiarity with celebrity, on our set, Dakota is wary when the photographer approaches her to show her the position for the shot. She watches him as he enters his safe zone to roll up her jeans. A circumspection that is not due to us, but a slightly inert suspicion, given the ironic answer to the question: Who do you trust in Hollywood? "In my analyst".
She has a mysterious air but comes on when she talks about two Italians she is muse: the designer Alessandro Michele and the director Luca Gudargnino, who also wanted her in the remake of Suspiria. Dakota Johnson comes from a dynasty of tough women: mother Melanie Griffith and grandmother Tippi Hedren, who dared to slam the door in Hitchcock's face. But she, in Hollywood, only trusts her analyst.
The best friends a girl can want in Hollywood are a director with a refined aesthetic and a stylist at the height that turns her into her muse. Dakota Johnson, 28, found them both. They are Italians and very faithful to her. Alessandro Michele, creative director of Gucci, chose her a few years ago as the face of the Bloom fragrance and recently confirmed her for the latest version of Acqua Di Fiori. Luca Guadagnino wanted her two years ago in A Bigger Splash, inspired by La piscina, in the role of Jane Birkin and offered her a second film. She will be the protagonist of the remake of Suspiria, the cult of Dario Argento of 1977, now in post-production: "We started talking about the project already on the set of the first film, but it took three years to find the right moment for me and Tilda Swinton. We did it and it was crazy". Crazy? "For me crazy is never entirely positive or negative. But I know I want to make films with Luca for the rest of my life. I become very possessive with him (laughs) and I know I have to share him with Tilda. So let's say we three will make movies together forever." During our interview at Milk Studios in Los Angeles, where these portraits were taken, Dakota does not even hide the affection for the stylist: "With Alessandro, we have built a working collaboration and a beautiful friendship. He is a genuinely loving person, there is nothing false in him. I admire him because the connection between his heart and brain is a constant flow. It seems we speak the same language, even if we speak different languages in reality."
An earthquake shakes American cinema and Dakota does not hold back from saying her. She did it, silently, reactivating her Instagram profile (she had deleted all the photos a year and a half ago) with a subscription to Time's Up, the initiative born from the #MeToo movement and some penthouses, with a legal and free support for those who have suffered harassment at work: "If I could do something.... Well, I would move things immediately to a completely different direction. It is an uncertain, sad and sometimes scary moment. The more women will discuss and act together, the more chances there will be to really change the situation. The feminine bond is fundamental, the disputes between women are the most brutal form that exists. Nobody can hurt you like another woman. At this point, I hope in every working environment, we will start to support each other, because it is the essential basis for a real change". She could not think otherwise because of the experience of her grandmother Tippi Hedren, who in the autobiography Tippi: A memoir told Hitchcock's obscure obsession with her. At the time, she could not talk about it to anyone. The book, published a year before the Weinstein scandal, gave the phenomenon a discouraging perspective on the past. The director tormented her with unsolicited invitations, followed by revenge for the waste, to the real and proper aggression during the filming of Marnie, to which Tippi managed to escape, while Hitch swore to ruin her career. From that moment until the end of the film the director will call her only "the girl", never again with her name and, after two years of contract, will not allow her to work for him or for others. Tippi has never regretted, in a recent radio interview with his daughter and granddaughter she said: "I never slammed the door behind me like that time."
The lives of the women of the house show an aspect that the last generation does not seem to want to replicate. Mom and grandmother both had three husbands and got married very young, while Dakota keeps this kind of privacy on her visits, the last one with Chris Martin from Coldplay. Behind the scenes she is involved in something else: "I want to start producing, because the real power is to create content. In the last two years, I struggled to find the stories and characters I would like to see on the screen. I thought that, if the content I want doesn't exist, I have to start creating it myself...I'm carrying on six different projects at this moment. There are so many actresses, screenwriters, directors with whom I would like to develop something." The voice is no longer whispered, perhaps an involuntary reflection of the fact that these are the themes she prefers to talk about. "For the more concrete I'm working with Amazon, but we're still rewriting the script, the title is Unfit, based on Adam Cohen's book, Imbeciles, and tells about the forced sterilization of Carrie Buck, approved by the Court Supreme in 1927 on the basis of alleged mental instability. It is incredible that this story is not taught in schools, I did not know anything about it. It is a current topic because it deals with the health and rights of women."
It is not easy to finance a film, but maybe new players in the field, such as Amazon and Netflix, facilitate the task? "Definitely. Now you can try many more roads, not just through the big studios. But the timing, the funds...There are many factors to reconcile. The crucial thing is to be in the right place, with the right project and the right people. And, if you leave, you're lucky, otherwise, you're doing another tantalizing thing, but it's a hectic activity." What do the horrors that you want to tell have in common? "They belong to different genres, but all the protagonists swim against the current". Salmon women? "I really admire those who are brave enough to make their dreams come true, who are struggling with what they want and who get so fucked up. Especially if they can be kind and considerate during the journey". "Last question", I hear from the back of the room. Last answer: "My generation has a personal push that did not exist in the previous ones, we have the skills and the possibility to carry on anything, but we are also incredibly lazy. Bizarre paradox. Some manage to take their lives in a wonderful way, others seem to be asleep. We should try to build the world in which we want to live, and that's what I'm trying to do with my projects too." It seems that Dakota will never be just "the girl" for anyone, director or not.
Source
|
Source
|
Source
|
Source