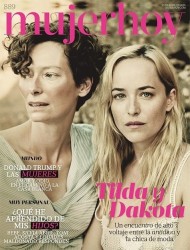 Scans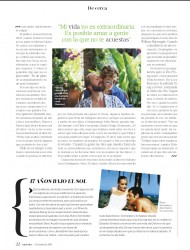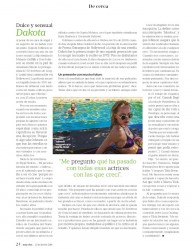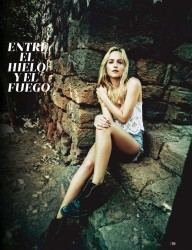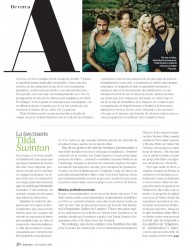 Interview
Translated by Us
Sweet and sensual Dakota
Despite her angelic face and appearance of not having broken a dish, Dakota Johnson became a year ago in a sexual icon. The shy daughter of Melanie Griffith and Don Johnson has got into the skin of Anastasia Steele, the protagonist of 50 Shades of Grey, and caused a stir in Hollywood. The film swept the box office (over 500 million) almost as much as in bad reviews, but it helped that she was, at 25, the new fashion actress.
But at that moment, when her name was on everyone's lips, she surprised with her own statements from a person down-to-earth and who waited for a whimsical actress, they took a disappointment. Because if something knows Johnson, is that after people hide the stars, with their virtues and many defects.
She is granddaughter of a myth called Tippi Hedren - "My favorite person in the world," she confesses, grew up knowing that she would a film star "because I can not do anything else." She knew from childhood, even before her debut on the big screen with 10 years as a daughter of her own mother in Crazy in Alabama, under the command of Antonio Banderas, his stepfather from the age of four.
We again hear from her at the Golden Globes in 2006, when she was elected Miss Golden Globe, an award from the Foreign Press Association of Hollywood's daughter a star. Dakota was the first woman of a second generation who picked it (his mother received in 1975). But we watch her in the movies until 11 years after Crazy in Alabama, when she starred in The Social Network. Yes, she closed her Facebook profile because she does not feel comfortable in social networks.
A present with a future
Despite the media that have been most of her films, Dakota says she does not crave fame, which she hopes never be used. "If you do it, I think you have a serious problem," she says. It is clear that the film is its present and its future, although she knows that within a couple of decades will not be so easy to find work. "I wonder what happened to those actresses with whom I grew up," she recently mused, while adding that the film industry is brutal with women because it forgets the great actresses, like her mother, after a certain age.
Even if that forgot affects her, there still be much to do for Dakota. Proof of this is that since 50 Shades of Grey threw her to stardom, she has not stopped link projects. She had the advantage of growing up surrounded by actors, directors and producers, but she has earned a place in the industry on her own merits, getting the public and critics in his pocket. And those who have directed her insist that she is fascinating.
Luca Guadagnino is not the exception. He defines her as a "fabulous" performer and the admiration is mutual, because Johnson says the Italian filmmaker's vision is different from any other: "He's a magic man. When we met, he walked with his hands behind his back. I have always been very interesting in men who walk like that. It is like if they were thinking constantly. It was a kind of love at first sight. "
Even with that connection, not everything went smoothly during the filming of "A Bigger Splash". When she arrived to the island of Pantelleria, the actress thought she would not be able to give life to Penelope, her character, describing her as a very young lady aware of her sexuality and without fear of power that this gives her. "I felt I did not have enough time. I had been given the gift of a very insane character and thought I could ruin it (...). When we read the script I tried not to mourn. I said, "Sorry, I can not do it." So Ralph [Fiennes] took me aside to talk. And then Tilda [Swinton]. They made me feel very sheltered and able to do it. So I went back to New York, I gathered my things and went back to the island." She says.
When she is asked about the best part of filming, Dakota replied that there were two special things: working with a cast such talented and be able to see the close connection between Luca Guadagnino and Tilda Swinton: "They taught me the creative relationship you can have with someone. They are chatting and constantly creating, imagining and changing."